Net ondanks de sneeuw toch even lekker een stuk(je) gewandeld. Ik ben er inmiddels zo aan gewend. Voorheen zou ik met deze kou en wind binnen blijven zitten, nu vind ik het heerlijk om lekker te bewegen en de kou in mijn gezicht te voelen.
Al wandelende dacht ik echt hoe dankbaar ik ben voor mijn wandelschoenen. Ik heb er al heel wat kilometers mee gelopen na mijn hernia operatie en ze geven me zoveel steun en grip, anders had ik niet zoveel durven lopen. Nu ga ik met plezier de sneeuw in, ik ben niet bang om onderuit te gaan. "Ik moet ze eigenlijk inlijsten" dacht ik op een gek moment. Als ik ze straks niet meer aan kan omdat ze versleten zijn....Ze hebben me letterlijk houvast gegeven (en nog) tijdens mijn revalidatie, wat ben ik daar blij om!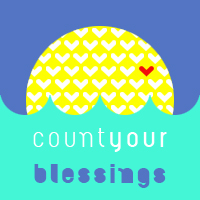 Een mooi bruggetje naar het '
Count your blessings'
initiatief van
Anki van Zilverblauw
dat ik via
by eva maria
op het spoor kwam toen ik net na mijn wandeling weer even achter de laptop kroop.
'Count your blessings' is stilstaan bij de mooie aspecten en momenten van het leven, die je door alledaagse drukte of problemen gemakkelijk over het hoofd ziet. Het doel is bewustwording. Het stikt van de kleine geluksmomentjes, die we laten passeren zonder ze op te merken. 'Count your blessings' kan helpen stil te staan bij alledaagse schoonheid en geluk. Er is immers niets mis met wat optimisme en vrolijkheid! Marilyn Monroe zei ooit: "Keep smiling, because life is a beautiful thing and there's so much to smile about." Dat is precies de essentie van 'Count your blessings'.
Ik houd ook erg van de
Gratitude Journal van Oprah
(zou het de leeftijd zijn, ach, kan mij het schelen), elke dag even stil staan bij de dingen waar je dankbaar voor bent en die je blij maken. Er zijn tegenwoordig zelfs apps voor te krijgen zodat je je dankbaarheid op je ipad of smartphone kunt bijhouden...
Ik vind het een mooi initiatief en sluit me graag bij
de bloggers van Anki
aan! Wat maakt jou blij?